Stars from the world of motor sport turned out in record breaking heat yesterday at Daytona Sandown Park to put young people with a learning disability in the driving seat and raise over £20,500 of vital funds for halow at the Damon Hill Karting Challenge 2017.
On the longest day of the year, it also turned out to be the hottest since 1976 – but this didn't stop our star drivers setting the pace for a thrilling evening of racing, making the charity event a huge success for six consecutive years!
Led by 1996 Formula 1 World Champion and halow Patron, Damon Hill OBE, we had 26 teams of drivers from London and Surrey companies taking part in a Le Mans style endurance race. The temperature during the race was almost as hot as on the ground – hitting 34 degrees at its height!
The teams had it all to do to racing against Damon's All Stars team which included professional racing driver and McLaren test driver, Oliver Turvey; Asian Le Mans Series Ace, Ollie Millroy; Stock car racing and Hollywood stunt driver, Salvo Cachia; and former professional racing driver and now musician, Josh Hill.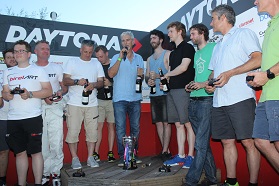 It was a nail biting close finish as jokers were played towards the end of the race, where teams traded extra laps or took laps from competitors. Damon's All Stars made first place, followed by Pilgrims Group and BirelArt coming in third.
Debbie Goddard, Head of Fundraising says, "The event was a great success last night and we want to thank all the companies and drivers involved in racing for halow. Their support is essential for halow and the work it does to support our young people with learning disabilities to have the same choices and chances as any young person. It was such a fun filled evening – you could feel the excitement in the crowd as the karts sped past! Thanks to all involved and we look forward to welcoming back our teams and meeting new friends for 2018's Karting Challenge."
During the Challenge we were joined by some of our young people who helped the fundraising team and enjoyed the racing and BBQ. To round up, there was a fast paced auction run by auctioneer Mark Head, who did a great job of raising funds for halow with some amazing prizes from McLaren, BTCC, Daytona and Noble Automotive, who were offering a once in a lifetime experience to sit next to Damon Hill at the Goodwood Festival of Speed's Hillclimb!
If you are interested in your company taking part in our 7th Karting Challenge in 2018, please email fundraising@halowproject.org.uk.
To enjoy some photos on flickr from 2017's Karting Challenge please click here.