February is love halow month!
The Love halow Campaign will be running throughout February 2017 to help raise awareness and learn more about halow. This is a chance for the public, schools and businesses to learn more about the young people with learning disabilities we support in the local community of Guildford and across Surrey.
Overall, halow aims to ensure that every person with a learning disability has the same life choices and chances as any other person. The young people we work with want the opportunity to:Build relationships, become part of the community, find meaningful employment, have a home of their own
With your help, last year we managed to achieve the following,
Celebrated halow's 10th birthday
, expanded our
Building Futures
programme, staffed two new Supported Living Houses, launched our
Disability Works campaig
n to encourage employers to help get young people into paid work. To have achieved all of this, against a backdrop of austerity, severe funding cuts in social care, in particular for people with a learning disability in Surrey, has been challenging for
halow
but very definitely something to be proud of and celebrate.
Our young people inspire us every day and your support for halow's work is more important now that it has ever been. This month we will be highlighting our work to our local community and raising funds through our heart shaped lapel pins.
All money raised from the Love halow Campaign will go directly to supporting our young people.
How can I get involved?
1. Sell a box of our badges:
If you work in an office, school or local business then get involved by selling a box of our lapel pin badges for £1. Alternatively, why not have a bake off by making heart shaped biscuits and cakes. They are full colour and only £1.00 per badge. If you would like a box please email fundraising@halowproject.org.uk or call 01483 447960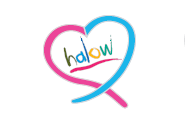 2. Get Social:
Join in online via Twitter, Facebook or email. Just send us a reason why you love halow preferably with a great picture like the ones in the video below. Feel free to download a Love halow Campaign sign by clicking here. Then print it out, fill it in and send us a picture of you holding it.
If you are using social media, support us by changing your profile picture with a twibbon and please remember to include #lovehalow and @halowproject so we can be sure to share your involvement.
Here is our video, made by our young people from last year (2016), to give you some inspiration!
3. Donate:
Make a donation to our work and help our young people lead a full, happy and active social life. Any contribution you make to the halow project and our Love halow Campaign will help change the lives of young people with a learning disability. Please click here to make a donation.
Your Change Can Change Lives.
We are looking for regular givers to support our work. As little as £3 a month could make a huge difference to halow young people and the services we provide. To set up a monthly donation to the halow project, click here.
Thank you very much for your support.