The #lovehalow campaign has been running throughout February to help raise awareness of the halow project.
Local businesses, coffee shops and pubs have been fundraising for halow by selling boxes of our heart shaped lapel pin badges.
Pin badges can now be purchased from over 10 outlets, including; Guildford Halifax, White Stuff, Corkage, Kings Head pub, Harris and Hoole and Coffee Culture. Pin badges have a suggested donation of £1 with all profits going to the halow project. Boxes are still available, If you would like a box please email fundraising@halowproject.org.uk or call 01483 447960
Meanwhile, Hector the charity's mascot, had a busy Valentines Day sharing his love for the local community. Hector visited Corkage to launch a new partnership with the wine bar and shop. Owners and parents of a halow young person, Andy and Deborah Dore , are delighted to be supporting halow by donating £1 of every purchase of Chateau Amour by the glass or bottle to the halow project.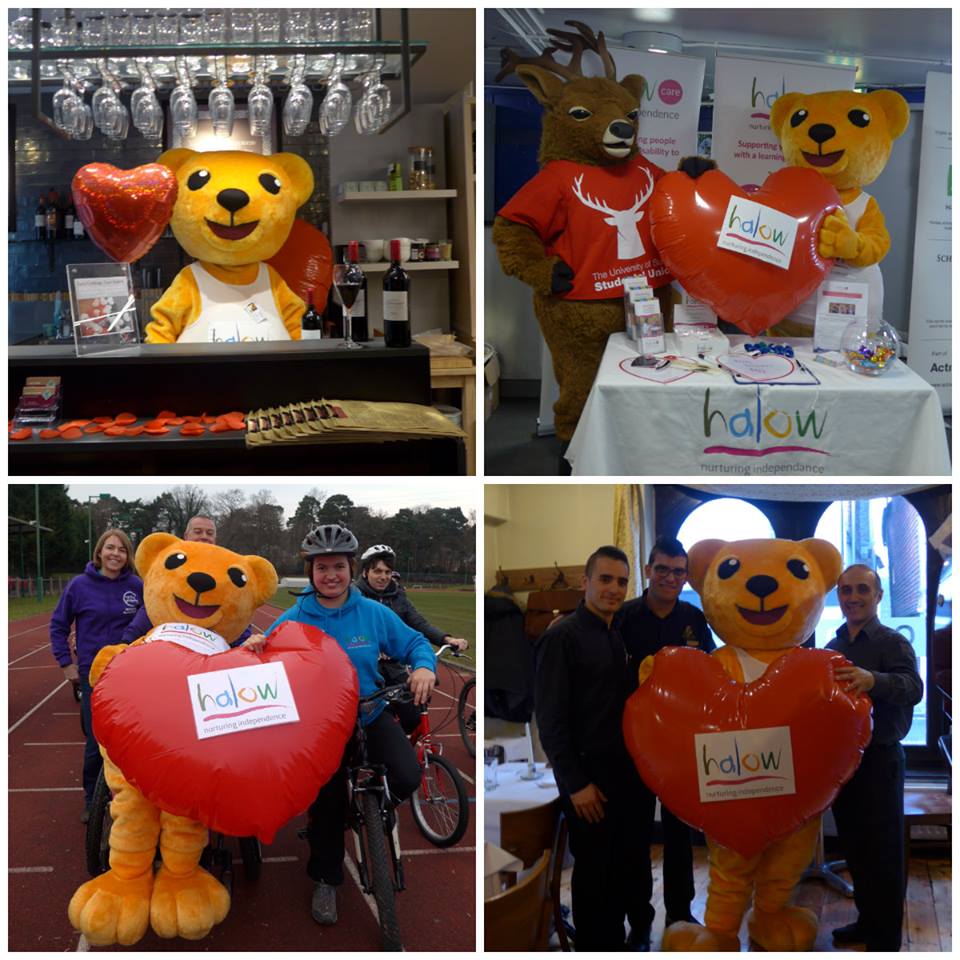 Hector then went on to visit Surrey University Student Union and Olivo's restaurant to thank them for their ongoing fundraising support to the charity. Finally Hector then visited Surrey Wheels 4 All, whilst halow young people were enjoying a cycling session as part of their half term activities.
Throughout the month, halow young people have enjoyed expressing why they love halow and celebrating the work that we do. Here are some of the wonderful things they said:
"I love halow because Building Futures helps me to learn new skills"

"I love halow because I love the social activities and going bowling"

"halow means the world to me"

"I love halow because it helps people get jobs and I get to meet new friends."

"I love halow because it is fun, I get to see friends, do activities and live in a halow house. The buddies and halow staff make me laugh! Give the gift of independence,

"I love halow because I get to socialise with all my friends"
Comments like this really highlight how important our work is to our young people and how much they value what we do. halow aims to ensure that every young person with a learning disability has the same life choices and chances as any other person and by supporting young people with opportunities to build relationships, become part of the community, find meaningful employment and have a home of their own we are helping them to take control of their lives.
Make a donation today to our work and help our young people lead a full, happy and active social life. Any contribution, however big or small, you make to our Love halow Campaign will help change the lives of young people with a learning disability. Please click here to make a donation.