DAY TWO – FRANCE!
Today's ride saw the cyclists travel across France from St Malo to Caen, a challenging ride over 100 miles. The riders were excited to cycle parts of the famous Tour de France route, with beautiful views and picturesque French countryside.
After leaving the ferry port at St Malo, the riders encountered a very windy and wet weather until reaching Mont Saint-Michel. After Mont Saint-Michel there were two tough, demanding legs to reach the ferry at Caen.
Meanwhile, this was a busy day for the support team, with various food stops, signage routing and bicycle repairs taking place throughout the day. A special shout out of the day goes to the fabulous support team which includes halow staff, co-founders, friends and supporters and to Elswood Cycle Works for providing maintenance on the go! We would also like to say thank you to Richard Sheppard at Motorlux UK and Mazda UK for once again providing this year's support vehicles.
Lunch Stop Day 2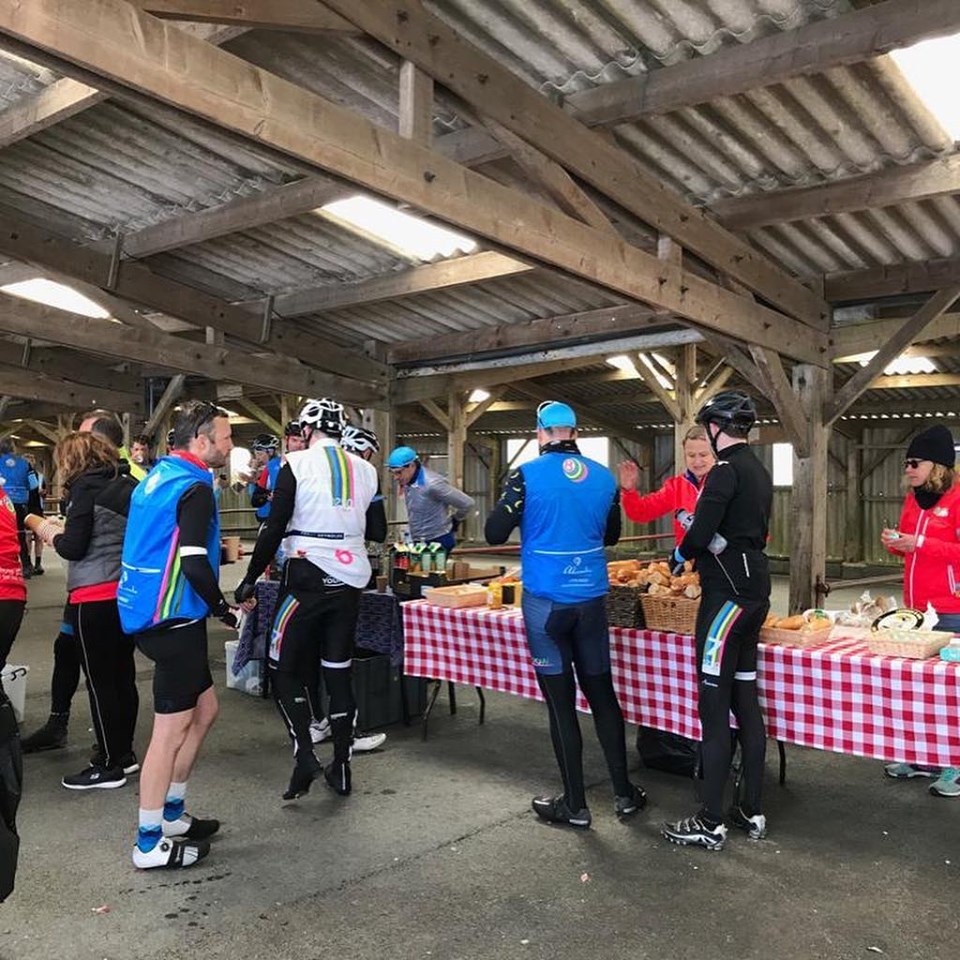 Another special mention for today for his inspirational and almost hidden support goes to Gavin Reay who has successfully ridden all eight of the halow250's! Over the year's he has provided us with eye catching graphic design and branding support to the halow250 team. Thanks to Gavin, everyone looks tip-top wearing halow rainbow coloured lycra!
The sun came out on the home straight to Caen where riders enjoyed a well-earned drink and dinner at les3 planeurs restaurant before checking into the ferry to begin the return crossing to Portsmouth, where the cyclists were able to catch up on well-earned rest before the final day of the halow250.
The riders have had a fantastic but tough day on the road. It's not too late to donate to help them achieve the target of £80,000. Please click here to donate!
http://uk.virginmoneygiving.com/fund/halow250.2019
Please support the team if you can and share our campaign page on Facebook and Twitter. Here is how your money will support the halow project:
· £25.00 - 10p per mile or pay for an advice session
· £50.00 - 20p per mile or cover a 1-2-1 halow buddy session
· £250.00 - £1 per mile or pay for a group day out
· £500.00 - £2 per mile or pay for a group weekend away
Thank you everyone for your support, we'll be back tomorrow on our social media channels.