Day Two of the halow250 charity bike ride – St Malo to Caen
Today's ride saw the cyclists' journey across France from St Malo to Caen completing a challenging 117 miles. The riders enjoyed cycling parts of the famous Tour de France route, with beautiful views and picturesque French Countryside.
The riders enjoyed beautiful sunshine and fantastic weather for cycling today. After leaving the ferry port at St Malo, reaching Mont Saint-Michel at 30 miles. From leaving Mont Saint-Michel, there was a tough and demanding second and third leg to reach the Caen ferry.
Meanwhile, this was a busy day for the support team, with various food stops, signage routing and bicycle repairs taking place throughout the day. A special shout out of the day goes to fellow halow staff members, Mel and Sam who had the critical role of signing and routing the ride across France We would like to say thank you to Richard Sheppard at Motorlux UK for sponsoring this year's support vehicles and Elswood Cycleworks for providing cycling mechanics.
Another special mention for today for overcoming the odds goes to Nick and Nigel on the tandem. Nick used to attend halow activities and is now a keen cyclists and with the support of his fellow rider, Nigel he managed to complete as much as the ride as possible to reach the ferry.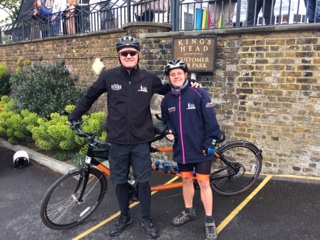 Once reached Caen, the riders enjoyed a well-earned drink and dinner in the Marina, checking into the ferry at around 9.30pm. The ferry left at 11pm and began its journey to Portsmouth, where the cyclists were able to catch up on well-earned rest before the final day of the halow250.
The riders have had a fantastic but tough day on the road. Please support our riders and find out the running total by clicking the link: http://uk.virginmoneygiving.com/fund/halow250.2017
Please support the team if you can and share our campaign page on Facebook and Twitter. Here is how your money will support the halow project:
· £25.00 - 10p per mile or pay for an advice session
· £50.00 - 20p per mile or cover a 1-2-1 halow buddy session
· £250.00 - £1 per mile or pay for a group day out
· £500.00 - £2 per mile or pay for a group weekend away
Thank you everyone for your support, were be back tomorrow on Storify for more live reporting.