The halow250 bike ride had a fantastic first day of cycling, covering over 80 miles from The Kings Head in Roehampton to Southsea Castle in Portsmouth.
Patron of the halow project Damon Hill was leading the pack of 130 cyclists as they took on the challenge of riding 250 miles. The cyclists are raising vital funds to keep our services going to make sure young people with a learning disability in Surrey can live independent, active and meaningful lives.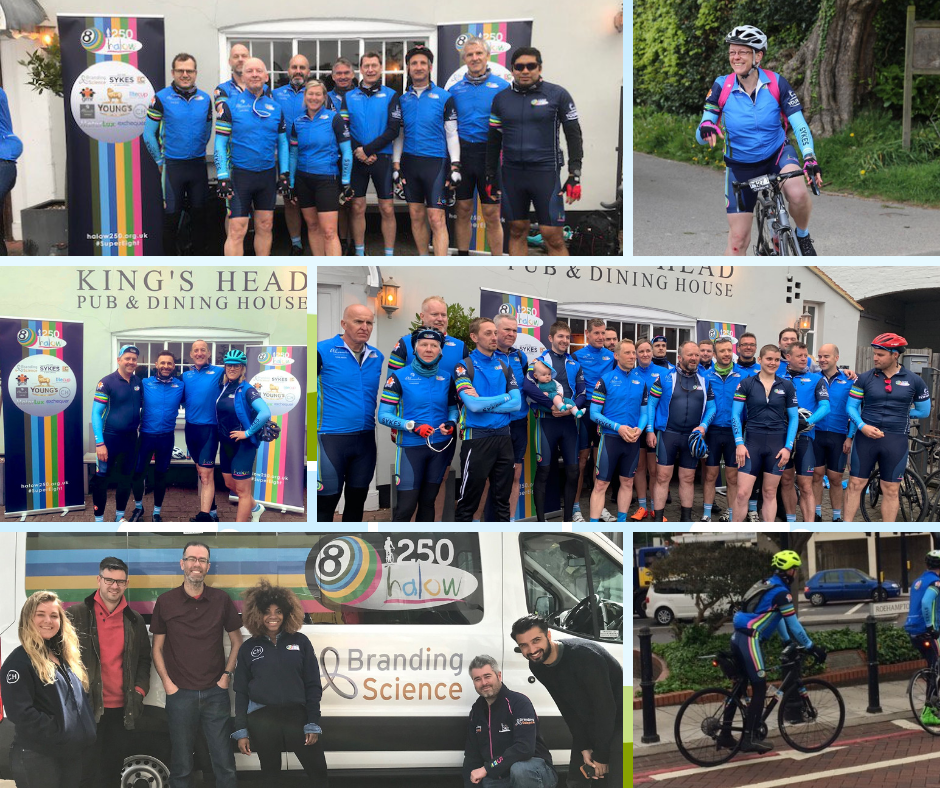 Setting off from the start line this morning were Charlotte and Harriet Meins. Harriet is one of halow's young people and was very excited to be cycling in day 1 of the ride. Thanks to the support of the halow project, Harriet's confidence has grown from strength to strength and is now living independently with support from the halow care buddy service.
Nick Ivil, another halow young person is also back in the saddle with his cycling partner Nigel. The famous duo are back on the tandem and have so far raised over £1,000 for the halow project. Nick's passion for cycling has grown over the years and he has taken part in many events but says the halow250 is his favourite!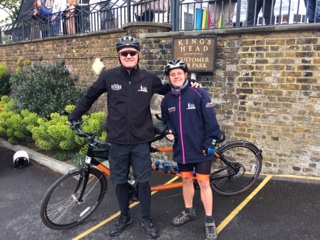 After a hearty breakfast at the Kings Head, courtesy of main sponsor Young's, the peloton including various corporate teams set off towards Portsmouth. This year's teams are: Branding Science, Arrow Shipping, Cheevers Howard, Flaming Nora, Philips, Uutensil and Sykes & Sons. The riders enjoyed cycling through the beautiful South Downs, stopping briefly half way to enjoy sausage rolls and sweet treats thanks to halow supporters. After a refreshing cup of tea and a snack the riders pushed off for the finish line at Portsmouth.
At around 4pm the halow250 riders were welcomed to the Exchequer drinks reception at Southsea Castle to toast their first day's cycling. After this it was time to head towards the ferry where they were able to settle down for the night, ready to face the challenges of cycling in France, including riding on the other side of the road!
The riders have already raised over £59,000! An incredible amount of money so far! It's not too late to donate to help them achieve the target of £80,000. Please click here to donate!
http://uk.virginmoneygiving.com/fund/halow250.2019
Please support our halow250 riders and share our campaign page on Facebook and Twitter. Here is how your money will support the halow project:
· £25.00 - 10p per mile or pay for an advice session
· £50.00 - 20p per mile or cover a 1-2-1 halow buddy session
· £250.00 - £1 per mile or pay for a group day out
· £500.00 - £2 per mile or pay for a group weekend away
Everything we do creates opportunities for young people with a learning disability in Surrey and breaks down social barriers. We have to fundraising 80% of everything we spend on our services so every pound counts!
Thank you everyone for your support, we'll be back tomorrow for more live reporting on our social media channels. Keep track of the halow250 on Facebook and Twitter